Overview of PCO Processes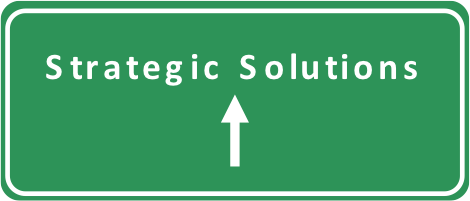 Multiple Attributes; Measured Improvement
The views of what constitutes performance and value can vary significantly among different stakeholders – even within the same organization.
Measurement of performance and value, qualitative or quantitative, may be in "hard" monetary terms, or by an amalgamation of several hard and "soft" attributes. Typically, the more diverse the stakeholder representation, the more varied the viewpoints. Similarly, there are contrasting ideas of how to achieve best value programs, project and systems.
Cost and scheduling improvements

are typical expected outcomes of the Performance & Cost Optimization - 360 (PCO-360) review process. However, there are usually several other factors to be considered to ensure success. The thrust of our work applies across the 360 degrees of the life-cycle: from initial needs evaluation & planning, through formulation & definition, implementation & project delivery, to service delivery, turnaround and retrofit / business transformation.
Risk and Uncertainty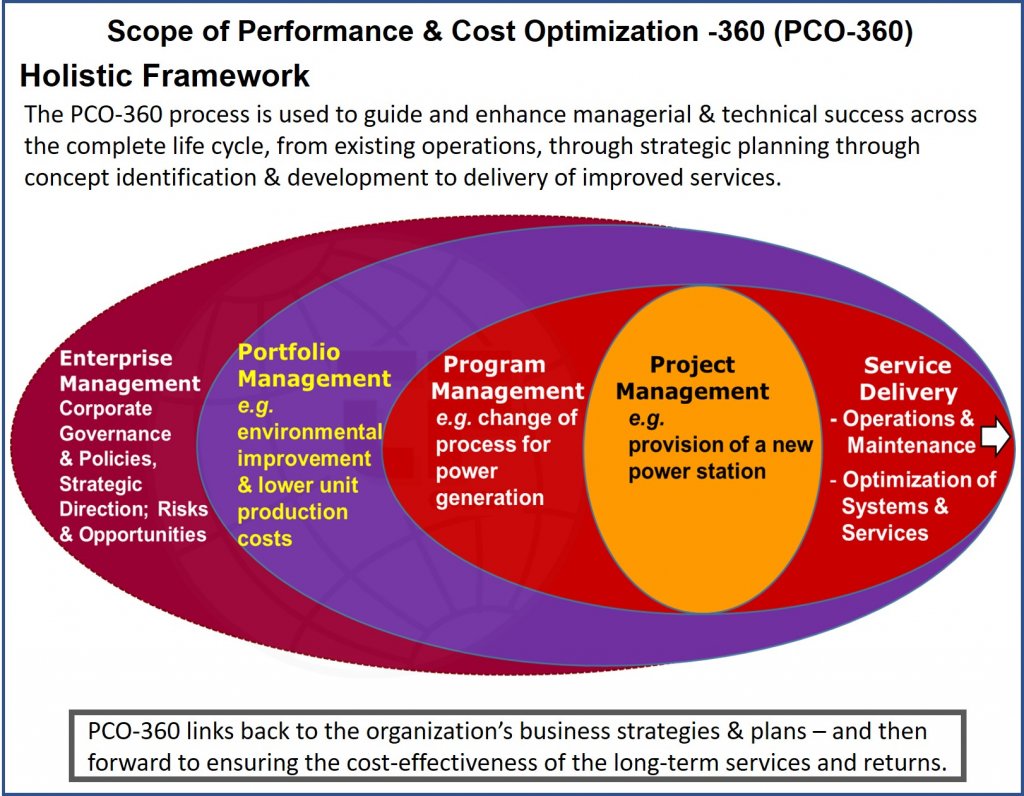 Structured, Analytical Approach
Performance and Cost Optimization- 360 comprises strategic diagnostics and structured, analytical reviews, as well as creativity, testing and development processes to initiate options for improving efficiencies and overall cost-effectiveness. A value file is developed and continually updated throughout the program/project life.
Our extensive experience in maximizing performance outcomes has led us to develop the comprehensive INSPIRE-360 Performance & Cost Optimization framework: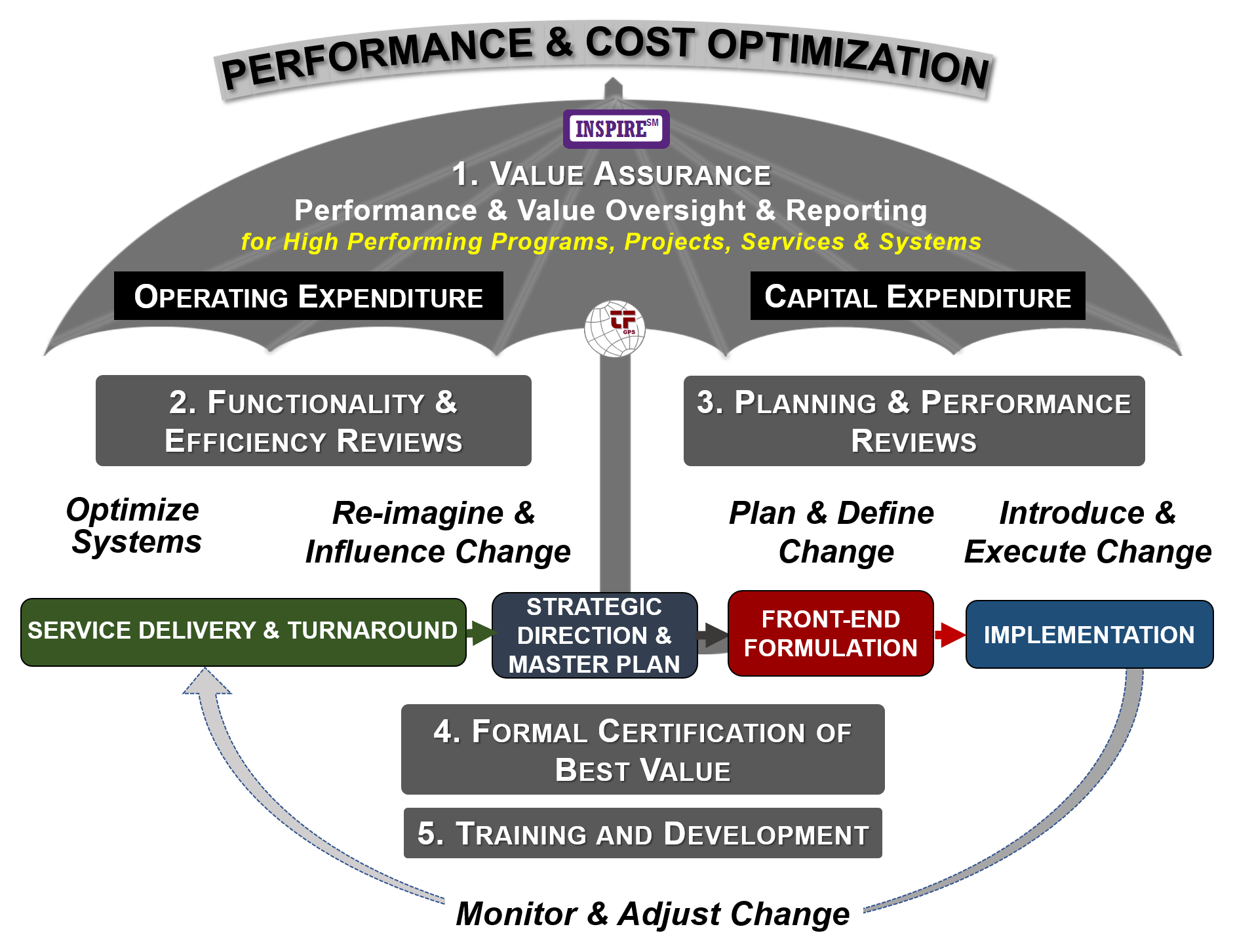 PROGRAM & PROJECTS PLANNING & OVERSIGHT
Enabling of key decision-making, monitoring & adjustment
​​​​​​​

​​​​​​​

OPPORTUNITY & INNOVATION REVIEW FRAMEWORK



The

INSPIRE-360

review method comprises a rapid series of focusing modes (A through Z) that are applied at the targeted application stage of the program or project lifecycle. An initial, Strategic Opportunity Assessment is conducted, followed as may be necessary by a "deep dive", Performance Innovation Review. A wide variety of associated tools and techniques is utilized as appropriate to a particular application.
VALUE ASSURANCE REVIEW (VAR) the overarching, navigational technique to ensure high value strategies and initiatives for taxpayers / shareholders:
​​​​​​​Business Process Improvement process to identify strategic change mechanisms, and,

Strategic Performance Alignment to develop a framework and identify options for deriving balanced solutions to complex or divisive issues, - taking into account financial, legal, political, regulatory, scheduling, resourcing and technical implications.
Value Assurance also provides independent oversight to provide executive management with ongoing confidence that programs and projects start and stay on track and will meet the required objectives and standards (or be adjusted for expected outcomes). A Value Assurance review may highlight specific areas for attention which can lead to further review through a Performance Innovation review – see following
PERFORMANCE INNOVATION
PERFORMANCE INNOVATION reviews are used to address critical emerging issues and enhance delivery of
a) existing services, and,
b) new capital programs / projects
OPERATING EXPENDITURE: O

ptimize

Systems; Re-imagine & Influence Significant Change
- Functionality & Efficiency (F&E) reviews to increase throughput and return-on-investment of ongoing service delivery. Example outcomes are: business turnaround, re-purposing, right-sizing, cost-efficiency gains, resiliency improvement and cycle time reduction.
CAPITAL EXPENDITURE: Plan & Define Change; Introduce & Execute Change
- Planning & Performance reviews to establish or improve the projected whole life performance of new capital schemes. Example outcomes are: faster identification of optimal concept, systems optimization, resolution of deadlock, 30% cost reduction, schedule acceleration and improved risk management approach.
CERTIFICATION
Formal Certification of Optimum Value programs and projects for more certainty during approvals processes.
LEARNING

We also conduct familiarization, training & development/coaching in advanced program & projects performance value optimization techniques.

​​​​​​​